@flyinlyons @wuocs @WPT Baby Baby I am Feeling So Good That I Made It To The Final Table WPT Event.
— Mimi Luu (@Mimiluu2000) March 19, 2014
Mimi Luu
The +World Poker Tour Rolling Thunder $3,500 Main Event ends today and the final table is set and laid for six, who will be playing for the following prize pool: 1st: $302,750 2nd: $200,030 3rd: $127,140 4th: $100,240 5th: $80,130 6th: $60,180. Seat 2 at this final table will be taken by a lady for a change - Mimi Luu will start fourth in chips, with 735,000 (24 bb).
Mimi Luu is a 2Pair Magazine Team Pro and her brief bio introduces her as "one of Northern California's top female poker players". She was born in Saigon, Vietnam and lives in San Jose, CA. She is known for a lot of table talk and has a friendly, exuberant personality. Mimi herself says she has 'a big heart' and 'simply loves people'.
Her live cashes
amount to $325,361 and she stands to double that overnight if she wins the Rolling Thunder, or at the very least will register a 20 per cent increase in her earnings. Mimi Luu's top achievement in live poker is her second place in Los Angeles Poker Classic 2012, when
she won $79,535
after making a deal.
Yet she is mainly famous in the poker community as Mimi 'Can't Fold This' Luu after an episode of tanking with pocket kings last summer. Faced with a preflop all-in, she takes a very long time and does all her thinking and emotional preparation for the decision aloud, sharing and spreading her own agony to the rest of the table and the on-watchers, all while repeating 'can't fold this, can't fold this'.
The video of this episode has got 35,000 views on youtube, and made number one on +Bluff Magazine top 10 videos list for 2013. There is a very funny remix (another 20,000 views) that I couldn't recommend more to everyone who endures more than 2 minutes of the original:
The WPT action starts at 12:00 noon PT and will be live-streamed on www.WPT.com. Meanwhile you can check out Mimi Luu's featured moments on WPT Live Updates. Her fans wish her luck and will also expect some very special and elaborate nail art at the final table!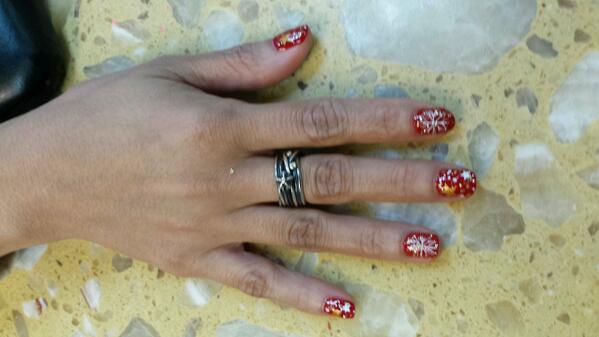 The @Mimiluu2000 Art of Nails - a secret weapon of mass distraction?.. @TVPokerRoom @PokerStarsWomen @PokerPaparazzi http://t.co/RLNJcBt2uM
— Annie RankingHero (@AnnieRKH) March 19, 2014